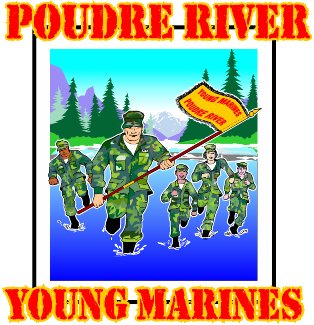 POUDRE RIVER YOUNG MARINES
PHOTO ALBUM
For Best Results, Click On Picture And View Manually
DO YOU WANT TO BECOME A POUDRE RIVER YOUNG MARINE?
WE HAVE A UNIFORM TO FIT YOU, BUT CAN YOU FIT THE UNIFORM?  FIND OUT NOW!!!
VISIT THE "JOIN OUR UNIT" SECTION AND SIGN UP FOR THE NEXT RECRUIT TRAINING.
DO YOU WANT TO VOLUNTEER?  VISIT THE "VOLUNTEER HERE" SECTION AND APPLY
AS A REGISTERED ADULT STAFF MEMBER OF POUDRE RIVER YOUNG MARINES.
PRIOR MILITARY EXPERIENCE IS NOT REQUIRED TO VOLUNTEER,
BUT IS PREFERRED FOR CERTAIN POSITIONS (IE-TRAINING OFFICERS, DRILL INSTRUCTORS, ETC).
WE NEED ADULT VOLUNTEERS WITH CLERICAL/ACCOUNTING EXPERIENCE
TO ASSIST IN OUR ADJUTANT & PAYMASTER DUTIES AND RESPONSIBILITIES.